Product Code: 935
The Model 935 Ionising Blower provides effective long range ionisation over a large area. Its versatility makes it suitable for a wide range of industrial applications.
The Model 935 comprises an ionisation head and an integrated fan system. A high volume flow of ionised air is generated by blowing air through the ionisation head at the mouth of the unit. Ionisation is provided by powerful 915 bars, generating an ionised field to a depth of up to 2000mm. The 935 unit is powered by the Model 904 and is available in both 110V and 240V versions.
Download
Features & Benefits
Resistively coupled ionisation head
Shockless operation
Ionisation provided by 915 bars
Powerful ionisation with very fast decay
times
High volume air flow
Provides highly effective long range
ionisation
Large footprint
Effective over a large target area
Available in 200mm length increments
Flexibility to optimise performance for
individual applications
Easy, flexible mounting
Can be mounted on walls, ceilings etc to suit a specific application
Removable polypropylene grille
Easy access for regular maintenance of
ionisation head
Variable fan speed (option)
Air flow can be adjusted to suit specific
applications
Filter media (option)
Ensures only clean air impacts the target
area
Technical Characteristics
Weight
Approx. 4.5Kg per 400mm length
Dimensions
184mm W x 171.5mm H x up to 3000mm L
Operating voltage
110/240V, 50/60Hz
Construction
Extruded anodised aluminium body with
steel end plates
Mounting
Steel fixing brackets supplied with each unit
Electrical supply for fan units
200mm 50W 1200mm 150W
400mm 50W 1400mm 200W
600mm 100W 1600mm 200W
800mm 100W 1800mm 250W
1000mm 150W 2000mm 250W
Typical Operating Range
300 – 1200mm
Must Haves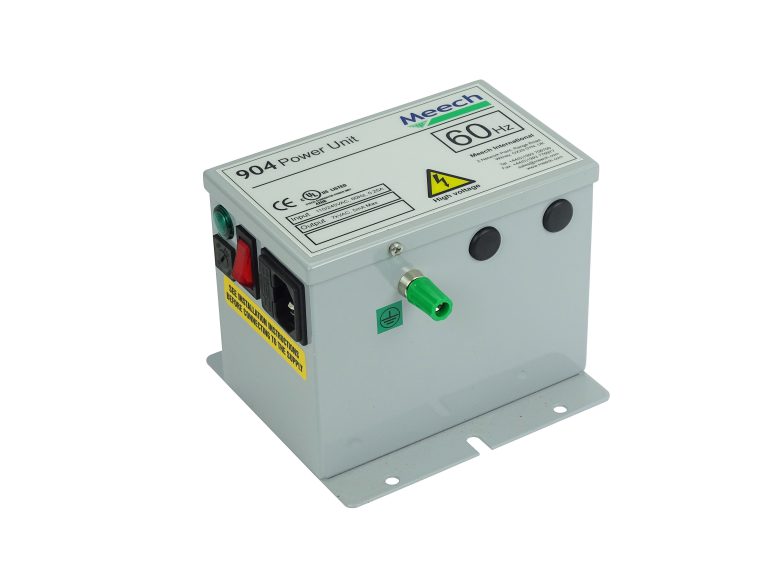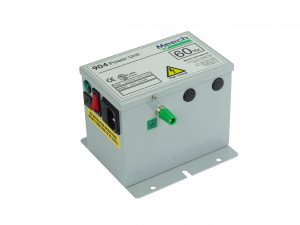 904 Power Supply
Product Code: 904
The Meech Model 904 is a constant voltage AC power supply, designed to provide a 7kV source for Meech AC ionising equipment.
View Product