Product Code: A935EX
The 935EX Ionising Blower provides effective long range ionisation in hazardous locations. It is popular for large 3d plastic mouldings in paint booth applications, where solvents from the paints mean that the installation area is typically zone 1 or 2.
The system comprises the ionising head or heads and a remote blower, positioned in a safe area.
The Ionisation for the head is provided by 2 model 915Ex ionising bars. These are powered by Model 904 Power supplies. The blower is, typically, a three phase unit that is sized according to the application.
Interconnecting ducting can be supplied by Meech if required.
Download
Features & Benefits
Ionisation provided by Meech 915EX bars
Powerful ionisation with very fast decay times
High volume air flow
Provides highly effective long range ionisation
Removable polypropylene grille
Easy access for regular maintenance of ionisation head
For use in hazardous locations
ATEX certified ionising bars
Remote Blower
Ensures ionising bars operate in clean, solvent-free air
Technical Characteristics
Cross section (mm)
172 x 233
Ionising Bar Operating Voltage
7kV from 904 Power supply ( Requires 110/220V 50/60Hz)
High Voltage Cable
5 metres shielded in flexible conduit
Construction
Aluminium / Steel
Mounting
Steel fixing brackets supplied with each unit
EX Zone Characteristics
II 2 GD EEx m 1180 Gas Group iiA, Temp Class T6 (T85°C)
Optimum Working Distance
200 – 1500mm
915EX Ionising Bar Certificate
Baseefa: 04ATEX0347X
Ionising Head Duct Connections
100mm dia.
Must Haves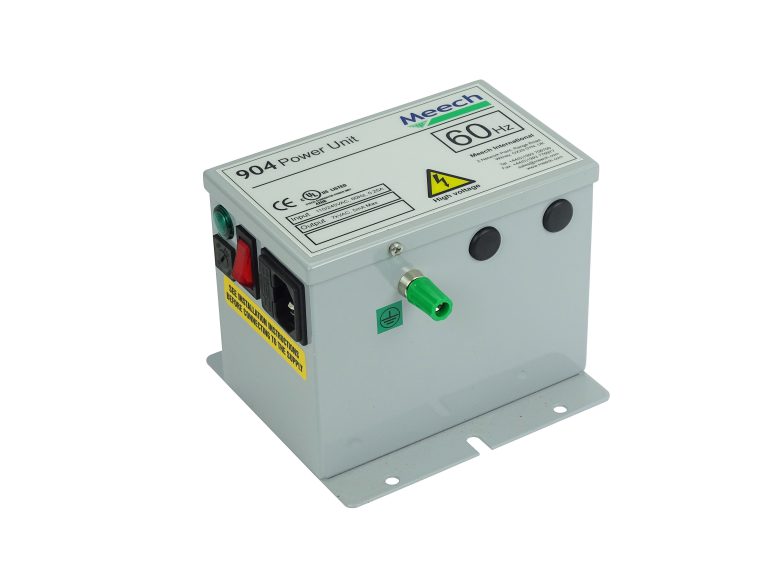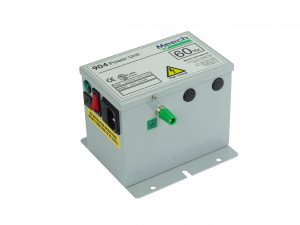 904 Power Supply
Product Code: 904
The Meech Model 904 is a constant voltage AC power supply, designed to provide a 7kV source for Meech AC ionising equipment.
View Product