957EX Hazardous Area Air Curtain
Product Code: 957EX
Model 957Ex consists of a Meech 915Ex static eliminator bar mounted on to a linear air flow amplifier (air curtain).
It produces a high speed, laminar beam of ionised air for long range static neutralisation and dust removal. It is available in a variety of lengths.
The 915Ex Bar is BASEEFA approved for use in hazardous areas. (EXs IIA T6 – Zone 1 on 2). II 2 G Gas group IIA Temp Class T6
Download
Features & Benefits
Laminar air flow
Reduces recombination of ions, increasing
effective range
High speed air flow
Long range ionisation capability
Air amplifier
Reduces compressed air consumption
Easy maintenance
Optimum performance and equipment life
Technical Characteristics
Weight
Approximately 3.5 Kg per metre length
Pin energy
0.15 millijoules
Cable
5 metres of screened HT cable as standard.
Longer lengths can be ordered
Mounting
M4 studs securing static eliminator bar can
be used for mounting
Air consumption
122 lt/min at 5 bar per 25mm of air curtain
length (4.3cfm at 80psi per inch length)
Noise
Quiet operation. Typically 50dBA less than
the equivalent drilled or slotted pipe.
Must Haves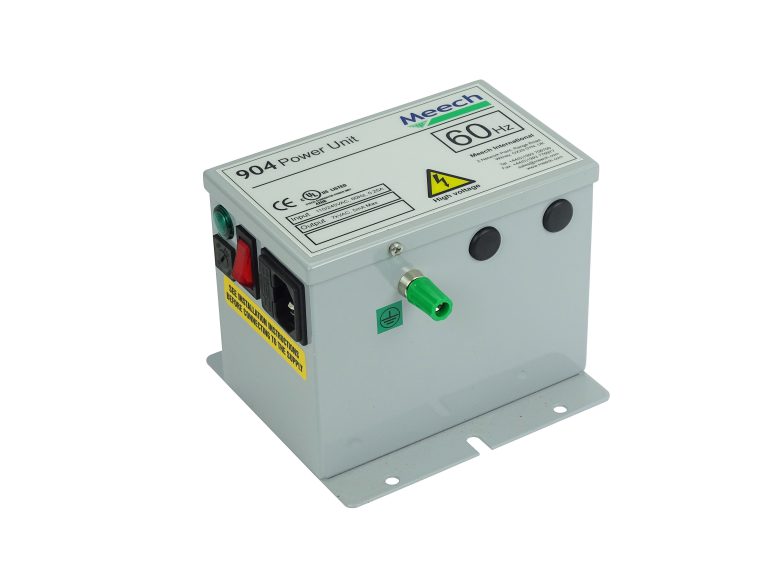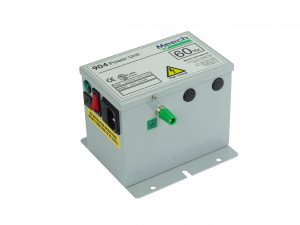 904 Power Supply
Product Code: 904
The Meech Model 904 is a constant voltage AC power supply, designed to provide a 7kV source for Meech AC ionising equipment.
View Product