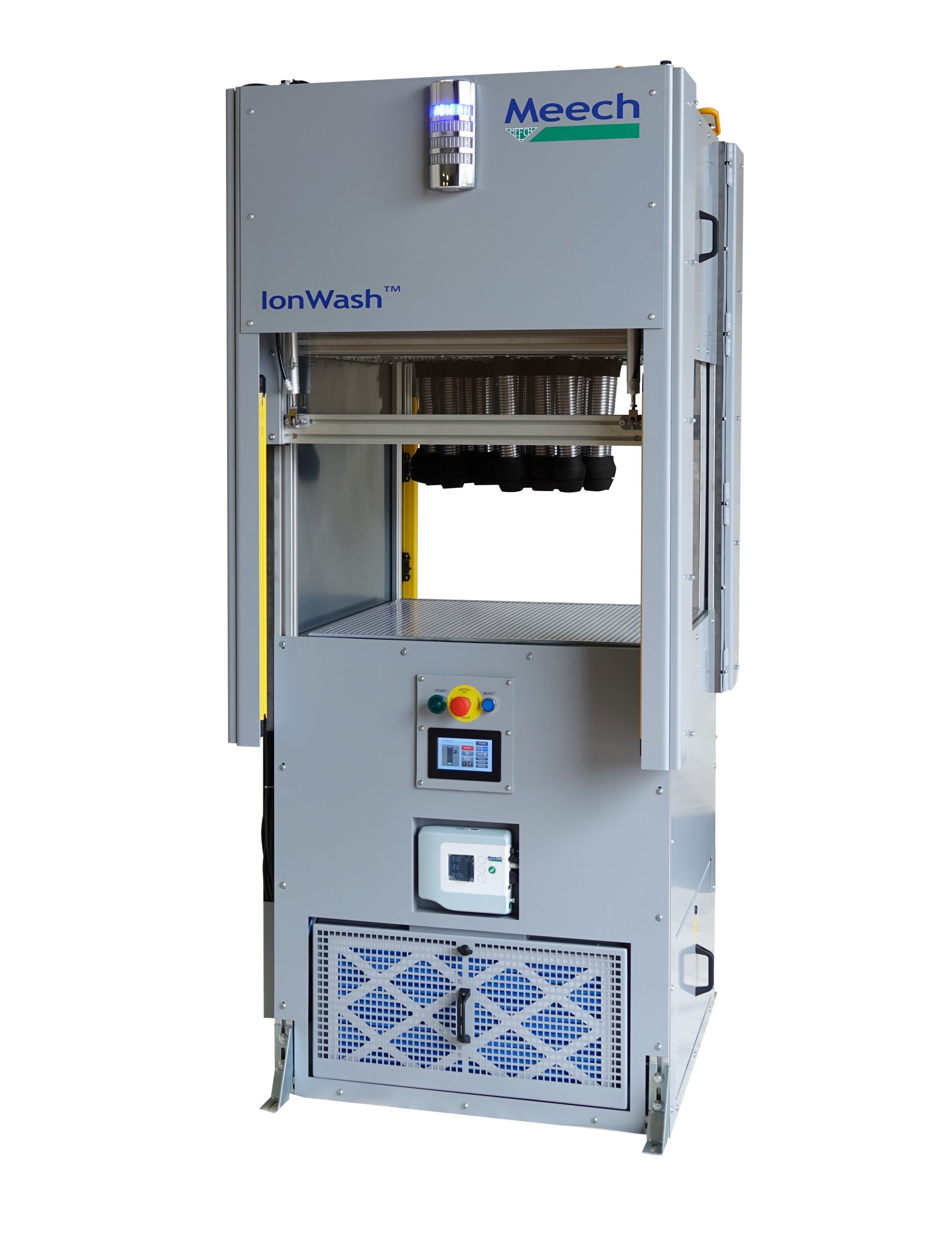 Product Code:
The Meech IonWash™ is a revolutionary nozzle cleaning system, designed to remove dry un-bonded contamination from components.
The IonWash incorporates specially designed Meech adjustable ionising nozzles which direct the ionisation and air flow towards the components to blow the contamination from the surface of a three-dimensional object in a time and labour efficient manner. Developed specifically with three-dimensional ionisation in mind, the IonWash is the latest innovation in large product and component contamination removal.
Download
Features & Benefits
Enclosed cleaning chamber
No manual handling of components required during the cleaning cycle, resulting in consistent and effective contamination removal.
High volume blown air flow
Rapid and effective removal of contamination without the need for compressed air.
Closed loop air flow
Instant high volume positive and negative (vacuum) air flow is generated within a closed loop system resulting in rapid extraction and containment of contamination
16 multi directional nozzles
Each nozzle can be manually positioned and relocated to target the high volume air flow at the areas of the 3 dimensional component being cleaned for optimal contamination removal.
Static neutralisation
Each nozzle emits powerful blown ionisation at the component to eliminate static charge to loosen and remove contamination. Ionisation balance also be easily adjusted.
Advanced filtration
Particle contamination is trapped via a two stage filtration system using F8 grade bag filter and HEPA H14 filter.
Touch screen control panel
For adjustments to cycle time and air pressure according to requirements for optimal cleaning performance.
Fast Installation
Very low downtime in production
Pneumatic Doors
For easy operation
Light Guards
The system is equipped with light guards on either side of the cleaning chamber. If the light guards are tripped the doors will stop and the system will alarm.
Technical Characteristics
Power Consumption
4.7KvA (Average for 25 second cycle)
Power Supply 
200 – 400V; 3 Phase; 50/60Hz
Dimensions (mm)
1142 x 1248 x 2070-2200 (W x D x H)
Usable cleaning area dimensions (mm)
950 x 710 x 330 (W x D x H)
Air Volume Output Capacity
2200m³/hr
Static Charge Decay Time 5000V - 500V)
0.6 seconds at 280mm and 1Kpa pressure setting
Ionisation: Output Voltage
Up to 12kV
Ionisation: Ion Balance
+/- 10V
Flitration
HT failure 24V signal
Touch screen controls
Positive Pressure setting; Cycle Time; Reset; One/Two Operator mode switch; Door Speed Control Valves
Physical Controls
Start; Emergency Stop; Reset; One/Two Operator mode switch; Door Speed Control Valves
Must Haves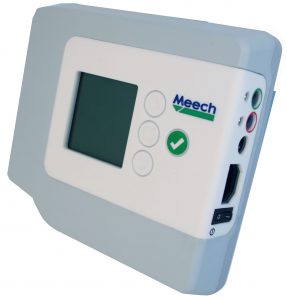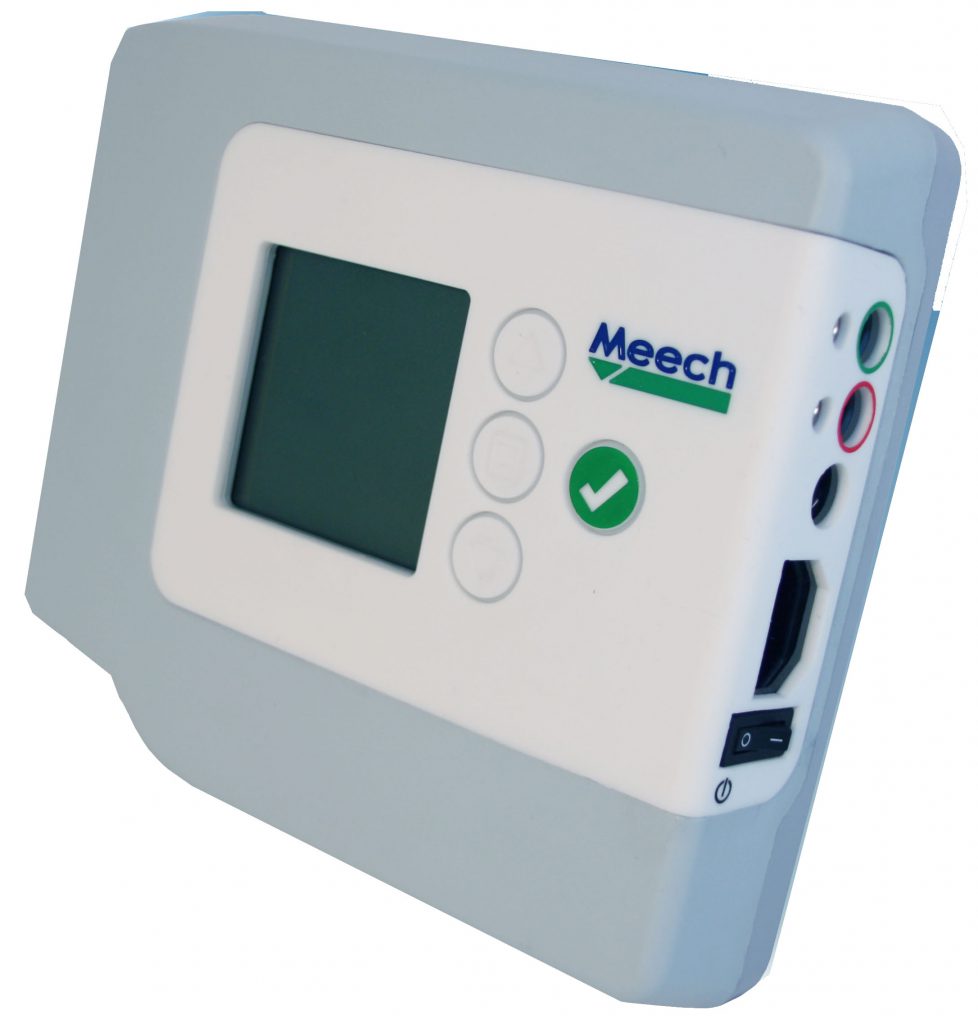 Private: 977CM Current Monitoring Pulsed DC Controller
Product Code: 977CM
The 977CM brings together powerful long-range ionisation; closed-loop feedback; self-monitoring and remote reporting.
View Product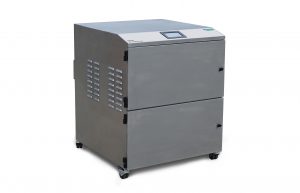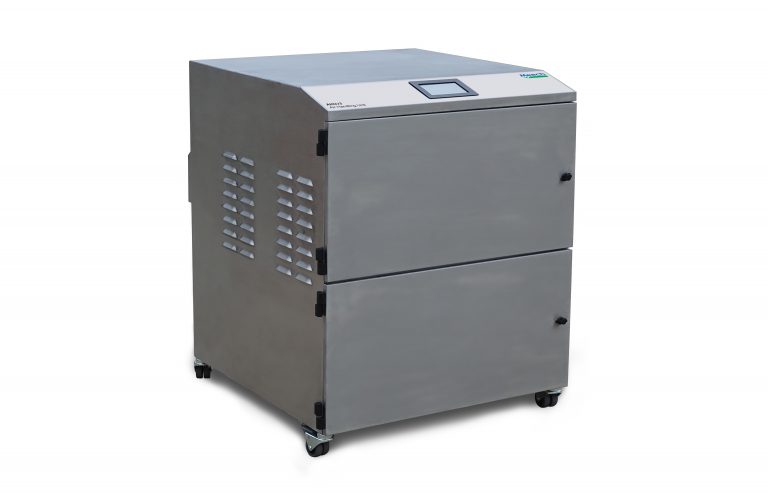 AHUv3 Standard – 3 Pump or 6 Pump
Product Code: AHUv3
The AHUv3 provides the positive pressure and vacuum pressure airflows and houses the system filters. There are 2 models available, a 3 pump unit and a 6 pump unit. For applications where a higher volume capacity is required the 6 pump unit can be used.
View Product