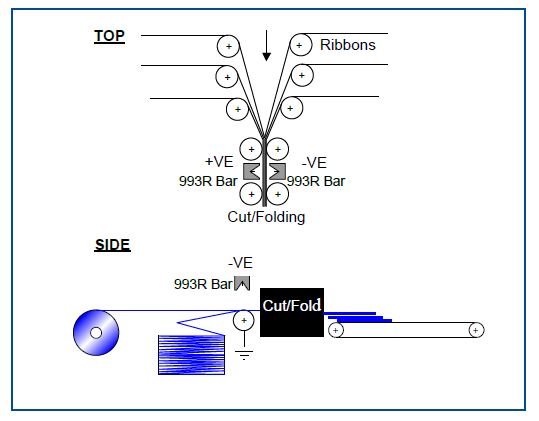 High Reject Rates During Ribbon Tacking In Newspaper And Magazine Web Converting
Problem
When manufacturing or printing on paper and other materials, it is common for several webs of material to be brought together prior to the final cut/fold operation.
As the webs are brought together they can often move out of alignment, causing high reject rates after the cut/fold operation.
Solution
Using a 993R bar you can introduce a static charge to 'pin' the collated webs together. The webs will then stay in register for the cut/fold operation. Use of a 993R bar will dramatically reduce reject rates.
As shown in the the drawing, the Meech 993R bars are positioned facing each other. The bars are connected to positive and negative 992v3 30kV static generators.
Download