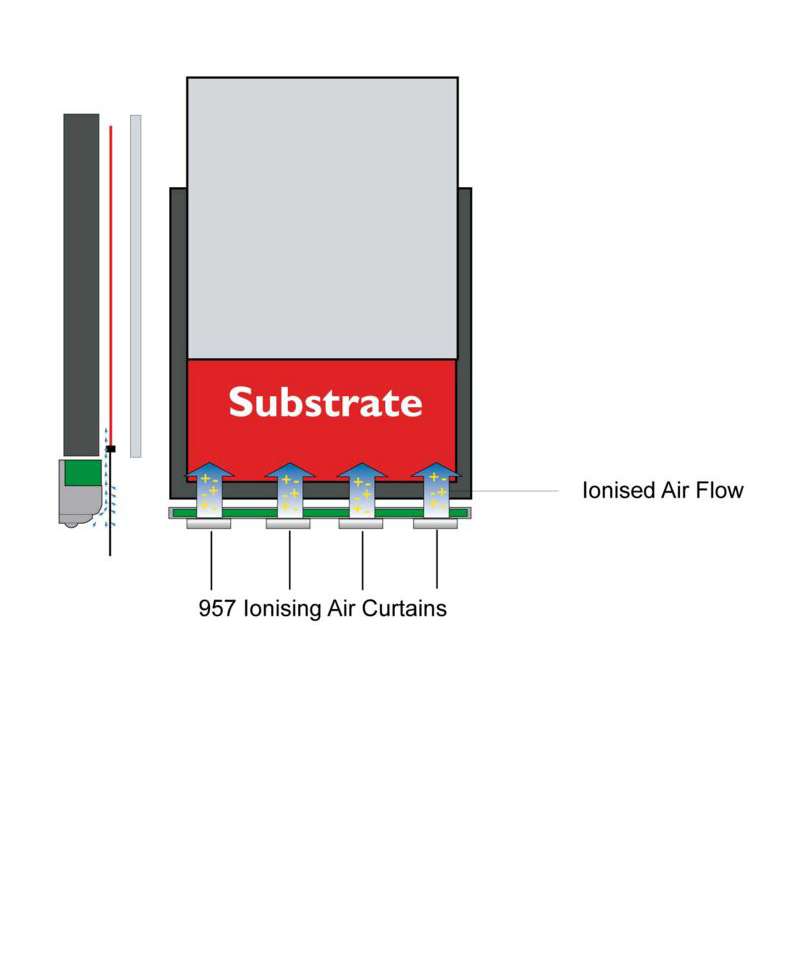 Static Control On Wide Format Screenprint Preventing Sheets Sticking To Screen
Problem
On ¾ automatic silk screen printing machines, static charges on substrates such as plastic cause several problems:
The substrate sticks to the screen bed as it retracts – pulling it from the gripper fingers and not allowing the substrate to fall correctly.
The substrate is attracted to the screen as it rises again causing failure to drop correctly.
Misbehaviour of the substrate on its path to the dryer.
Attraction of airborne contaminants.
Solution
A number of 957 air curtains share a 914 shockless ionising bar. The bar length is usually equal to the width of the machine to which it has been fitted. The number of 957 air curtains is determined by the number of gripper fingers. One 957 should be placed between each gripper.
The system can be supplied by the air pump of the screen print machine. The air aperture is adjusted to accommodate a lower pressure. Direct connection to mains air is also acceptable. The ionisation system is permanently switched on but the air supply is only actuated by a solenoid which reacts to a relay with the machine control panel. This allows a small amount of concentrated ionised air to be released for a short period whilst the gripper fingers are working. The substrate will now release itself from both the screen and the screenbed.
Download