Ensuring the
Ultimate Finish
The Cost of Contamination on the Paintline
Imperfect paintwork
When on the paint line, any contamination present on the surface of the bodywork can have disasterous effects on the final paint quality as contaminants will often cause obvious and unsightly imprefections once paint and finishes have been applied.
Not meeting first-time pass rates
The need to rework the paintwork, or even scrap the automotive parts completely can be extremely detrimental to both the efficiency of the line and also to the profit margin, especially when this is an ongoing issue within the production line.
A quality sacrifice
A commitment to quality reflects and the high price point of the automotive industry. There is little room for error or imperfection when it comes to finish in the automotive sector and brand perception can be greatly damaged by a poor quality finish.
That's Why We Designed
JetStream
The Meech JetStream ionising air knife system is more than just a piece of equipment; it's a world-leading solution for contamination removal.
Capable of being used in a diverse range of applications – both large and small – JetStream's unique technology provides ultimate performance, combined with outstanding energy efficiency. 
For the automotive industry, we developed the profiling JetStream. This delivers real-time profiling, where the air knives move over the body shape at approximately 100 – 150mm distance from the surface in order to provide the best static neutralisation and contamination removal.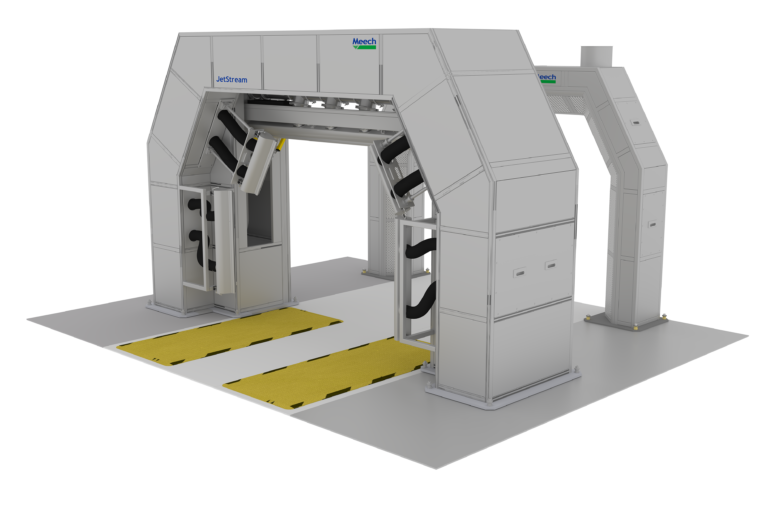 Ionisation
Airflow
Directed Laminar Air
Ionisation
Integrated ionising bars provide superior ionisation, neutralising the charges on the surface which attract and hold the contamination.
Airflow
Directed Laminar Air
"Reliability has never been an issue. The JetStream system always runs smoothly and does its job, ensuring our ability to build high quality bumpers."
"The JetStream system was installed when the paint line was first set up and – as we are working 24/7 – it has proved to be both robust and reliable. It is a vital part of our quality control procedure and is a major contributor in keeping our reject numbers extremely low."
Could JetStream help your application?
Want to know more? Send us a message...