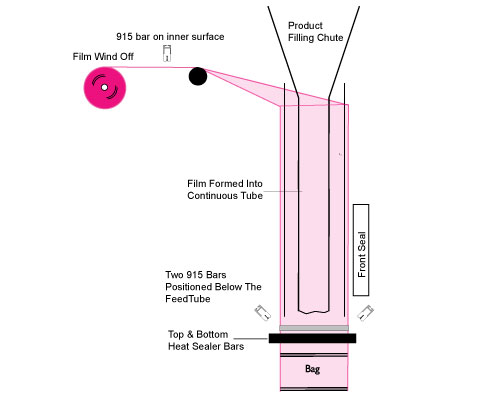 Bag Sealing Problems In Vertical Form Fill & Seal Machines
Problem
High static charges are generated when packaging film is fed from a wind off roll. The static charge attracts powder and lightweight dust from the filling products on to the internal film surface. In particular, contaminants get into the seal which prevents effective sealing and is not cosmetically acceptable to the end user/shopper. This prevents proper sealing of the film, resulting in expensive machine down time and scrap product.
Solution
A Model 915 bar is positioned prior to the forming tube to eliminate static charges on the film that will become the inside of the tube.
Further 915 bars are positioned just before the sealing bar, as per the drawing. Any residual static charge on the film is neutralised, preventing dust attraction and allowing full sealing. The positioning of the bars allows the filling tube to be easily removed or exchanged for different sizes, without the need for demounting.
Download