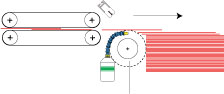 Static Problems Caused During Stacking Of Shingled Sheets On A Sheeting Machine
Problem
When delivering single or shingled (overlapped) sheets onto either a conveyor or a stack, static causes the sheets to cling together resulting in collating problems. The problem is more pronounced on shingle type delivery systems. It is important that the static charges are eliminated from the individual sheets.
Solution
Single or multiple 261 DC ionizing nozzles with a flexible air output nozzle can be positioned in such a way that the ionized air produced via the 261 flows between the sheets during the delivery process. Model 915 bars positioned as shown ensure full and effective neutralisation of static charges across the full sheet width.
The 261 flexible nozzles can be positioned either below the conveyor roller or at the side of the sheets. The flexible nozzle can easily be adjusted to suit the machine. This allows the 261 nozzle to be installed in positions that would not normally be possible with alternative types of static elimination system.
Download