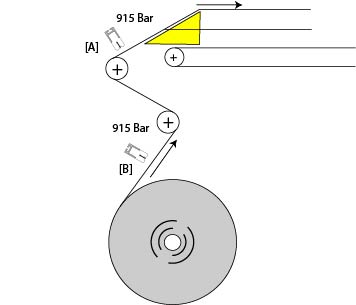 Static Problems With Thermal Plastic Over Wrap
Problem
A high static charge is built up as the film unwinds and passes over various machines parts, rollers and web guides. This results in the film sticking to the machine frame, rollers or itself instead of forming around the product to be wrapped.
Solution
A 915 Ionising Bar installed at point "A" (see diagram) will prevent the film from wrapping around the rollers.
A 915 Bar should be installed at "B" (see diagram) if the film is not forming around the product properly, and is sticking to itself or the machine frame.
Download