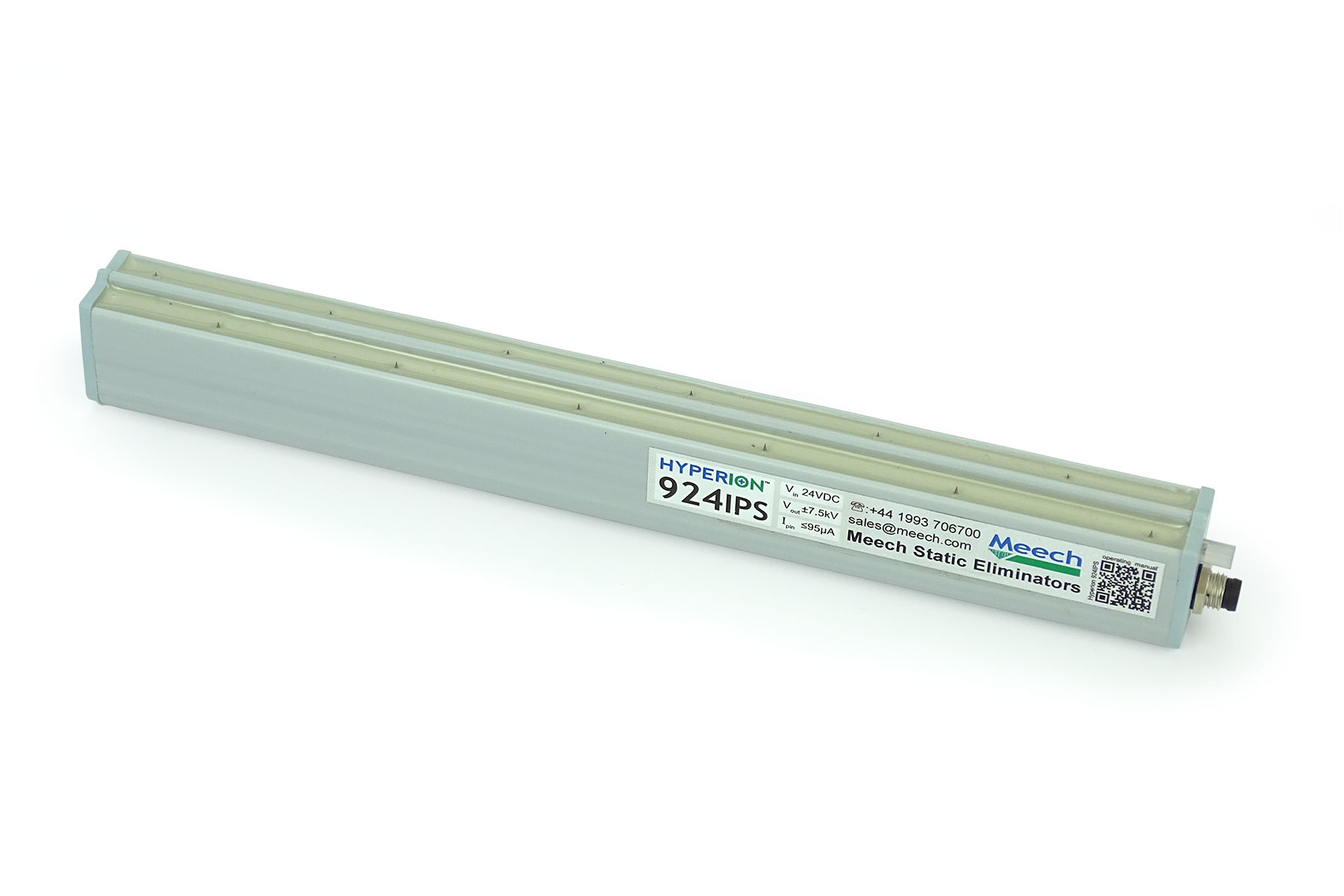 Hyperion 924IPS Short-Range Pulsed DC Ionising Bar
Product Code: 924IPS
Powered by 24V DC the Hyperion 924IPS is the most compact pulsed DC bar available on the market.
The 924IPS features Meech's Ion Current Monitoring (ICM) technology, this ensures performance is maintained with local and remote alerts when the bar needs cleaning.
Fully BarMaster compatible, the output voltage, frequency and balance can be adjusted. These features will help optimise the 924IPS for specific applications, including very sensitive applications such as RFID.
Download
Features & Benefits
Optimum Working Distance
20-200mm; suitable for short range applications, such as web paths on converting machinery, printing presses or applications that have traditionally used AC equipment.
Compact Size & Full Length Ionisation
At just 22mm (W) x 32mm (H), it will fit into tight installations. The bar is also designed to give full performance over its entire length.
Low Voltage Wiring
Requiring a 24V DC supply removes the need for high voltage wiring to the ionising bar.
Integrated Power Supply (IPS)
The integral pulsed DC power supply uses surface-mount high voltage components. This reduces the overall size of the bar, making it the most compact 24V DC bar available.
Adjustable Output
Output voltage, frequency and balance can be adjusted using the BarMaster programmer. Adjustable output optimises the bar for sensitive applications like RFID.
Adjustable Clean Pin Alert
Meech Ion Current Monitoring (ICM) technology detects when the 924IPS needs to be cleaned. The LED on the bar alerts operators of the need for cleaning. This ensures peak performance is maintained.
Environmental Protection
IP66 construction makes the bar suitable for harsh environments.
Remote Signal
An output signal will activate when the bar needs cleaning or a fault has been detected. This will alert operators remotely to check the bar.
Technical Characteristics
Dimensions (W x H)
22mm x 32mm
Mounting 
'T' Slot with M4 x 20mm studs
Emitters
Sharp titanium pins
Input Voltage and Current
24V DC (21-27V DC) Max 500mA
Output Voltage
Adjustable, +/- 3 to 7.5kV pulsed DC
Electrical Connection
4 Pole M8
Output Frequency
Default: 20Hz (Adjustable with BarMaster)
Output Balance
Default: 54% Positive, 46% Negative (Adjustable with BarMaster)
Environmental Protection
IP66
Max Ambient Temperature
60°C