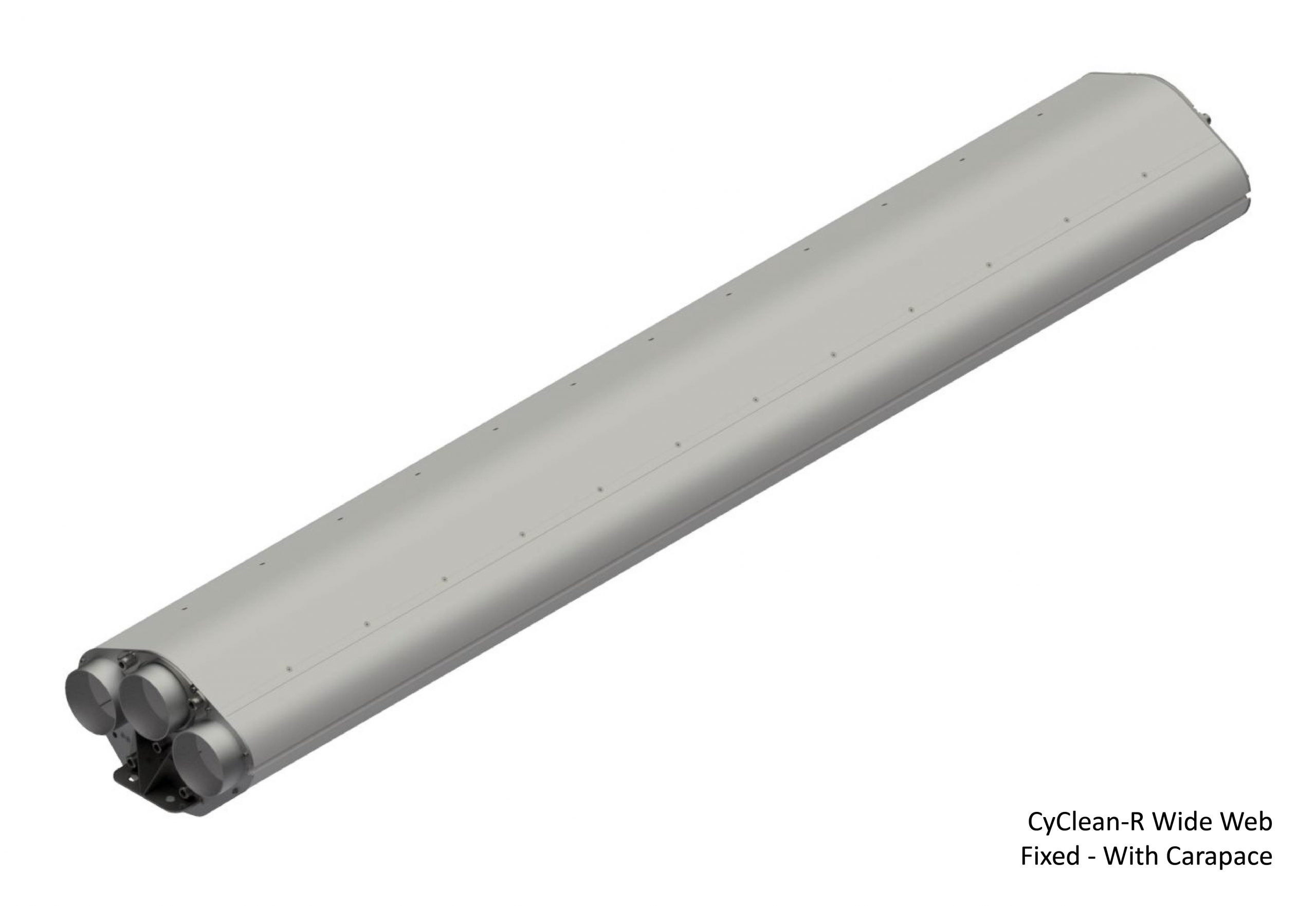 CyClean-R™ Wide Web Non-Contact Web Cleaning System
Product Code: CyClean-R Wide
CyClean-R is an extension to our extremely popular CyClean non-contact web cleaning range. The CyClean-R was designed to meet the need in the market for an advanced web cleaning system that can be used on web that sits around a roller. This makes the CyClean-R ideal for use in many applications, especially those with low-tension webs.
The CyClean-R provides a specialised solution for low-tension web cleaning. The CyClean-R is designed to be positioned on the roller, where the web tension is at its highest, therefore bypassing the issues of low tension and still delivering excellent surface cleaning. It uses the engineered CyClean cleaning technique of advanced computational fluid dynamics, whilst bypassing the challenges presented by low tension webs by cleaning the web on the roller. It is supplied with the latest Hyperion 924IPS Bars offering industry-leading static elimination.
CyClean-R is available as a single-sided cleaning system, but can be offered as a double-sided cleaning configuration as an option. CyClean-R delivers consistent removal of dry, unbonded contamination from the web surface (particle removal to 0.5 micron is achievable).
The CyClean-R for Wide Webs (200mm – 699mm) is available in two options: a fixed system, or with a pneumatic tilt opening. This allows you to choose the system most suitable for your application, installation and budget. To ensure the strength of the CyClean-R for wide web, a carapace is introduced to the design, improving the rigidity of the structure for improved performance. If you are unsure which system would be best for you, please contact our industry experts for advice.
Download
Features & Benefits
Non-Contact Web Cleaning
Eliminates the risk of surface damage occurring. Also ensures no interference with web tension or web tracking.
Unique Shape to Deliver Cleaning over a Guided Roller
Avoids challenges presented with low web tensions and ensures effective non-contact cleaning without the danger of damaging the web. Due to the shape of the CyClean-R, the air is forced into a precise direction at extremely high velocity, enhancing the cleaning performance.
Robust Design
Ability to clean web widths between 1300mm – 3999mm. (Wider bespoke units can be designed)Other CyClean-R models able to clean below 1300mm (See Narrow and Mid Web CyClean-R models).
Compact Design
Space-saving design which can be installed on most machines.
Air Balancing
Allows complete control of the balance between blow and vacuum airflows
Auto Airflow Adjustment
Reduces the frequency of required operator adjustments. Maintains optimum cleaning performance automatically.
No Consumable Items
Lower ongoing costs.
Quiet Operation
Can be installed in enclosed work areas. No health and safety issues due to low noise output.
Static Control
2 x 924IPS DC Bars
Technical Characteristics
Maximum Web Speed (Web Driven)
800mtrs/min, 2624ft/min
Maximum Web Width
Up to 9000mm
Mounting
4x M8 x 16mm holes
Opening
Option of fixed or Pneumatic option for 1300mm – 3999mm web width.
Duct spigots
End-feed only
Dimensions (H x D x W)
242.9mm x 335.9mm x Max. 3999mm (Larger bespoke widths available)