Contamination removal in
battery cell
production The rise of the EV market in recent years has led manufacturers to rapidly develop and manufacture lithium-ion batteries to fuel the boom in sales. With giga-factories opening across the globe to meet the demand, competition is growing and quality is paramount.
With technologies developing at speed, battery manufacturers are looking to create a battery which rivals petrol or diesel-fed vehicles, in order to deliver impressive mileage range and performance. 
In order to achieve this, every stage of the battery manufacturing process must be meticulously analysed in order to produce the best results.
Operating in the lithium battery manufacturing environment:
One of the critical focus areas for EV battery production is the manufacturing environment conditions. From initial raw materials to cell assembly the manufacturing conditions must be tightly controlled. This creates challenges for equipment manufacturers and operators alike. There are 3 main areas of critical consideration:
Lithium metal is extremely sensitive to even the smallest amounts of moisture in air and temperature inconsistencies in production.
The slightest exposure leads to reduced performance and impacts on reduced product life of Lithium-ion batteries.
Room temperature should be maintained at recommended levels, around 25°C (77°F), with tolerance of +/(-) 2°C (36°F) along with low dew points in the range of <1%.
The air change rate in the production room should be 20 to 50 air changes per hour while maintaining minimum fresh air introduction for positive room pressure and essential ventilation for operators.
Contamination of any type into the battery materials or wound into the cell can lead to direct or soft electrical shortages – leading to end of line rejects or low battery range performance.
ISO 8 cleanroom condition (or higher) is likely with major focus on contamination removal in the environment as well as on personnel.
Of course, contamination cannot always be removed and so there is still a risk of contamination and an impact on production yields. 
Problems and free particles can also be created within the processes of unwinding/winding, changeovers, coating, calendaring, slitting, stamping, laser cutting and more.  
All of these have potential to find their way into the anode/cathode/separator film layers.
Some contamination will be dry, free, unbound particles, while others will be moist, or bound contamination which is more difficult to remove.
Another risk area is toxic contamination from the coating materials as they are transferred over rollers, cut, wound and rolled – this can dissipate into the air and become a breathing hazard for the operator.
Static charges within the manufacturing environment can lead to a number of problems:
EV battery components are very sensitive to static charges – components must be uncharged within the process.
Uncontrolled static charges will also affect the material flow and will cause material misbehaviour or failure.
If uncontrolled, static discharges (sparks) will create surface dendritic burns affecting the dielectric properties of the separator film – leading to inconsistent charge and discharge behaviours and product failure.
Static charges generated on insulative materials such as the separator film also attract particles adding to contamination risk problems.
We understand these crucial requirements and have tested our equipment in dry rooms and dry test chambers. Our product designs have been adapted to eliminate potential premature wear items such as belts and pulleys, and replace them with direct drive motors. Drawing from our expertise and core competencies, Meech offers a tailored range of solutions to remove static charges and contamination, in order to deliver a zero faults forward approach at each application stage.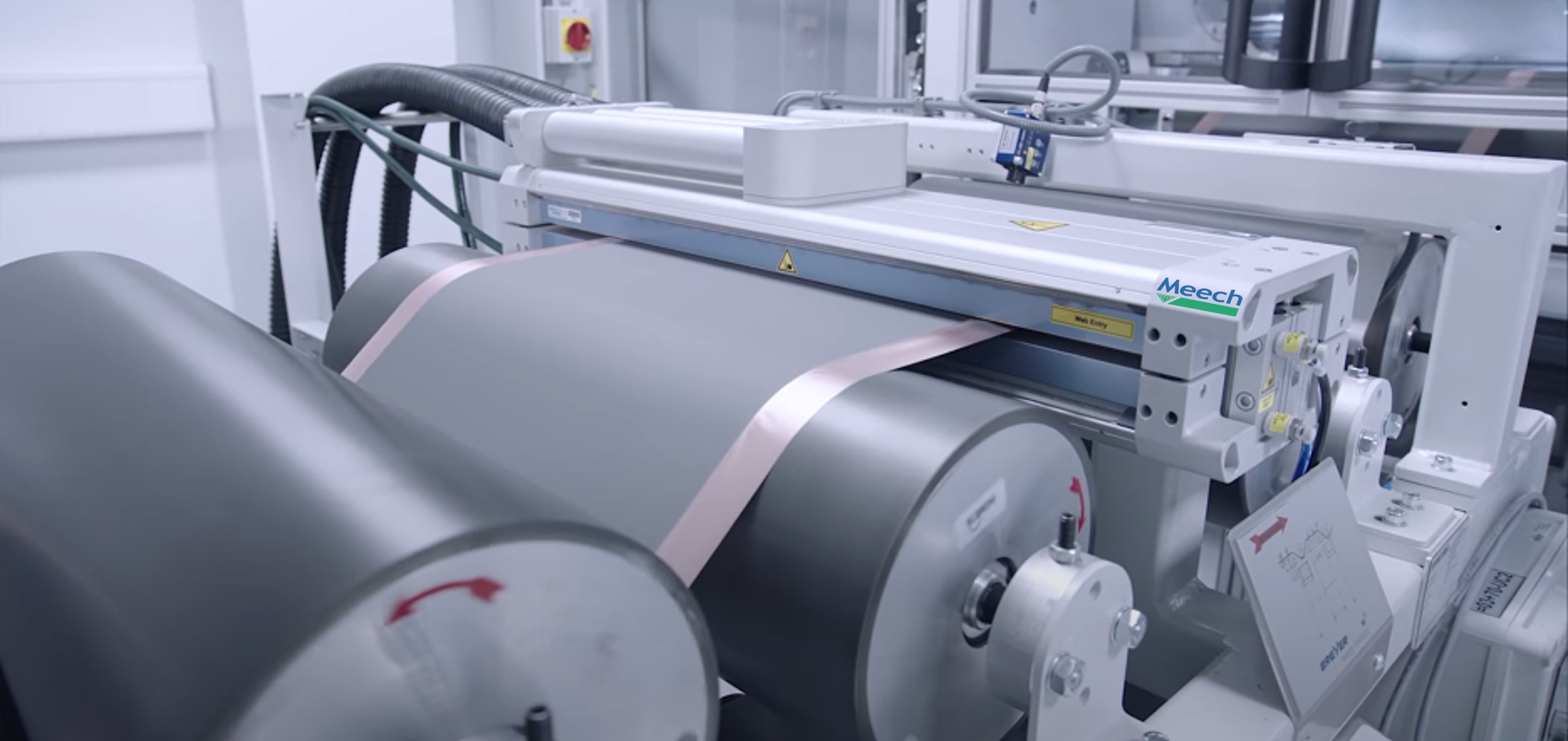 Our Zero Faults Forward Approach
We have identified a number of stages during the battery manufacturing process that are prone to contamination on the line. By applying the right solutions at these points, you make sure there are no weak links to your production chain. We explore these below and demonstrate our solutions…
Pre-Coating
Coating Roller
Pre-Calendering
Post-Slitting
Post Electrode Cutting
Winding
Pre-Coating
Prior to the coating stage of the copper/aluminium web, we recommend the use of a web cleaner on the substrate to remove any surface contamination that may impact the thickness and quality of the coated web. By removing the contamination at this stage, it ensure no unwanted particles are trapped within the layers, affecting the battery performance down the line.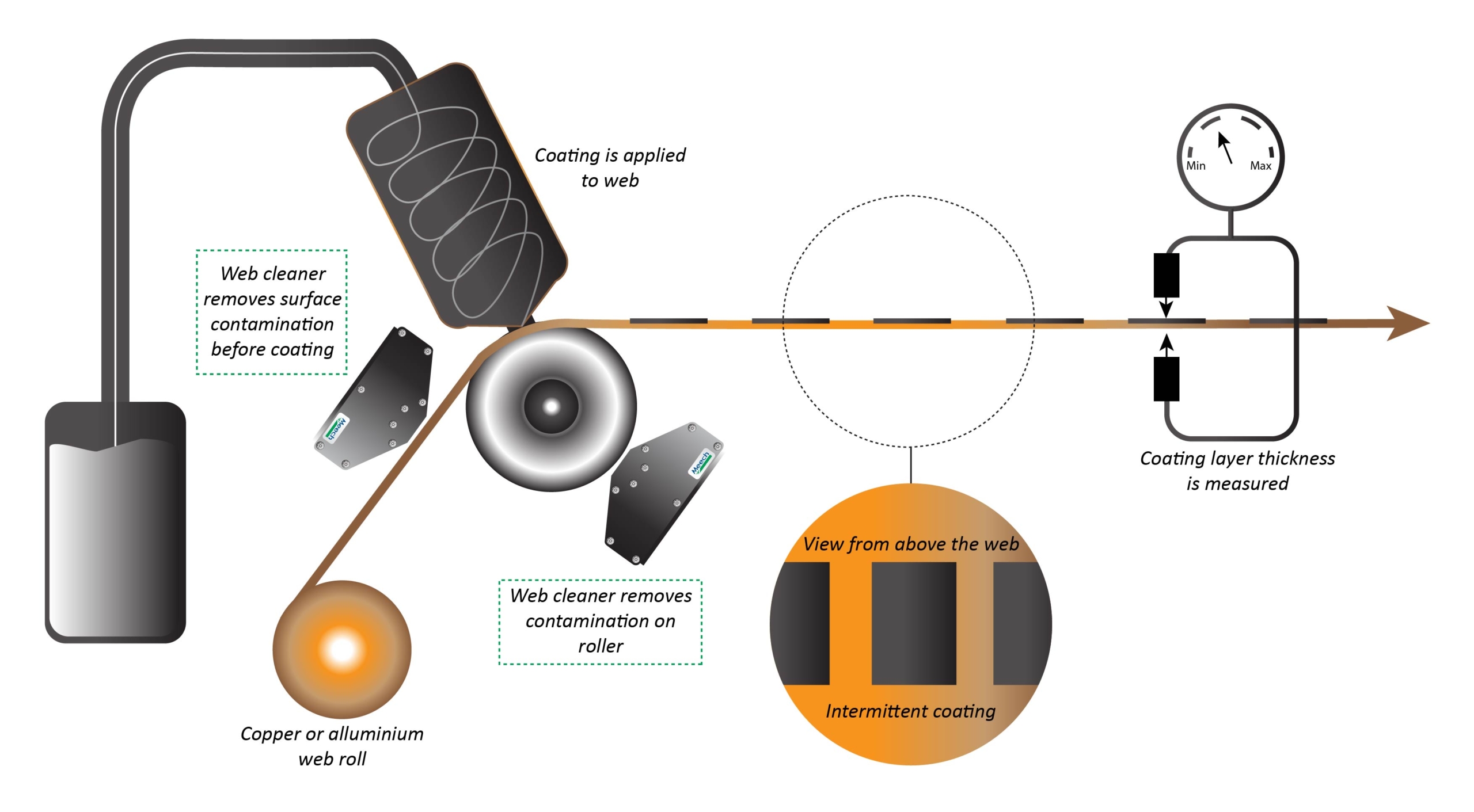 Coating Roller
Pre-Calendering
Post-Slitting
Post Electrode Cutting
Winding
* All drawings show a CyClean-R profile. This is for illustrative purposes only. The web cleaner and position most suitable for your process will depend on certain factors of your application.
With a range of specially designed contact and non-contact web cleaners available, Meech can deliver solutions for anode/cathode/separator film cleaning, for different web widths, tensions, locations and materials.
For more challenging 'bonded' contamination we offer a new battery cleaning range of brush surface type cleaners – with materials specially adapted for dry room applications.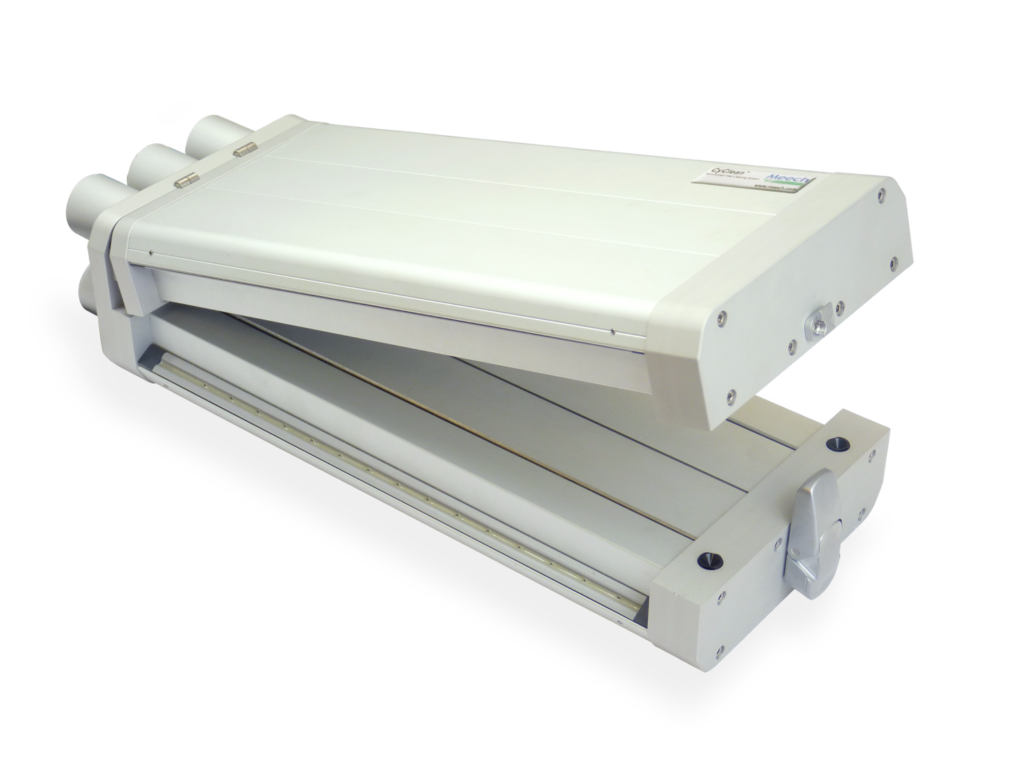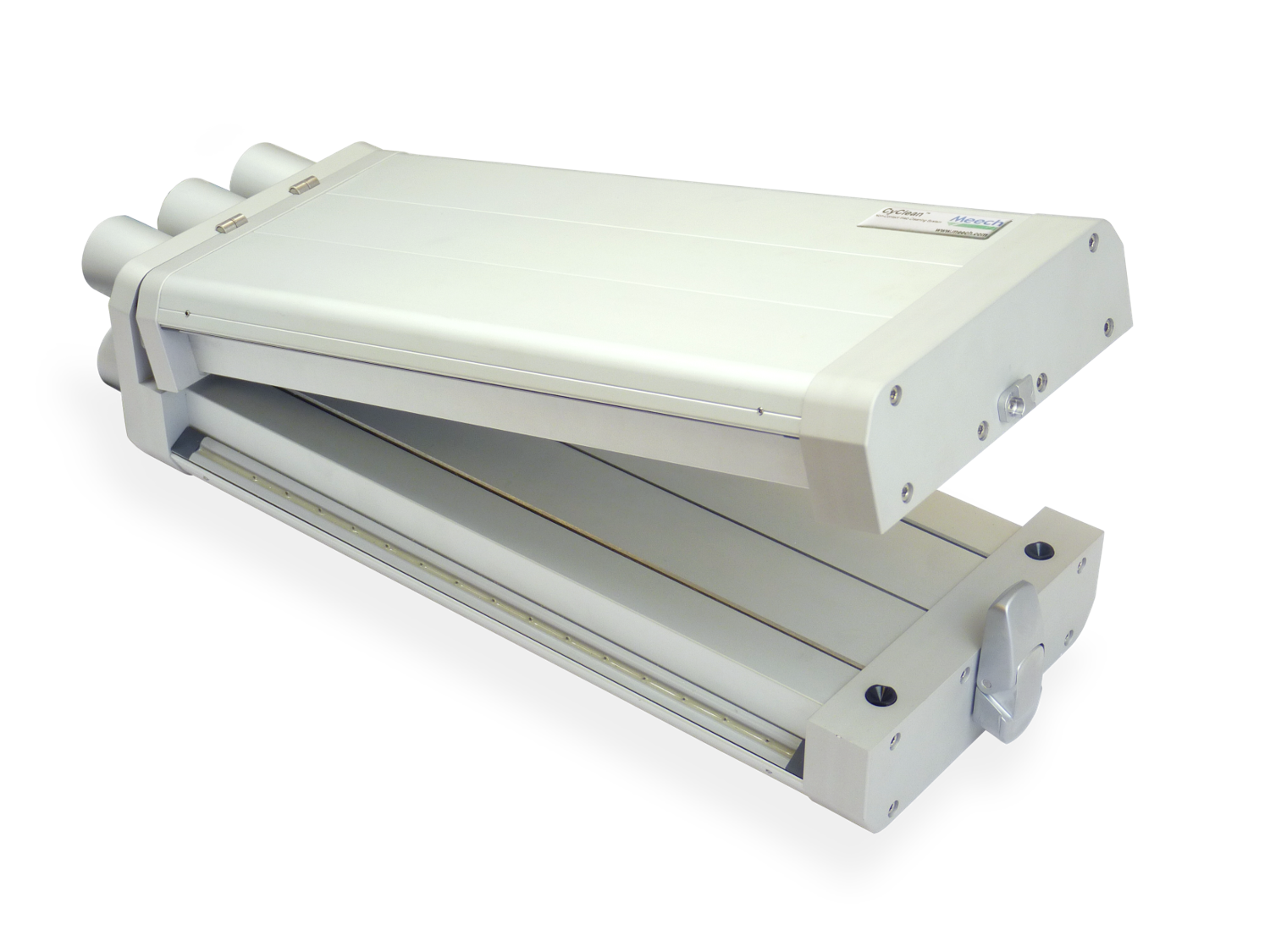 CyClean™ Non-Contact Web Cleaner
Meech CyClean™ has been designed in response to demand for a compact, high performance, non-contact web cleaner.
Through the application of advanced computational fluid dynamics, CyClean removes and extracts contamination below 1 micron.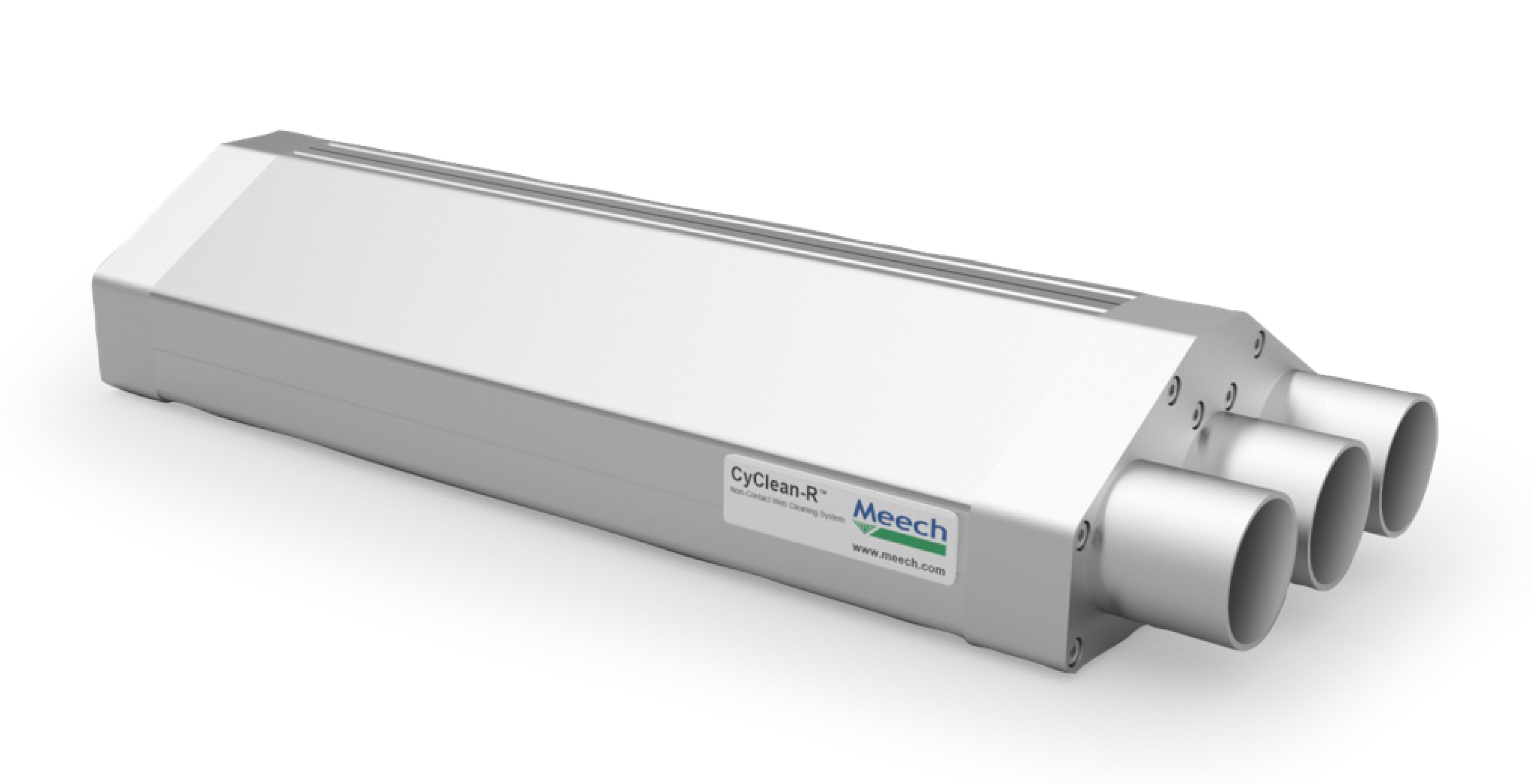 CyClean-R™ Non-Contact Web Cleaner
The CyClean-R provides a specialised solution for low-tension web cleaning. 
The CyClean-R is designed to be positioned on the roller, where the web tension is at its highest, therefore bypassing the issues of low tension and still delivering excellent surface cleaning.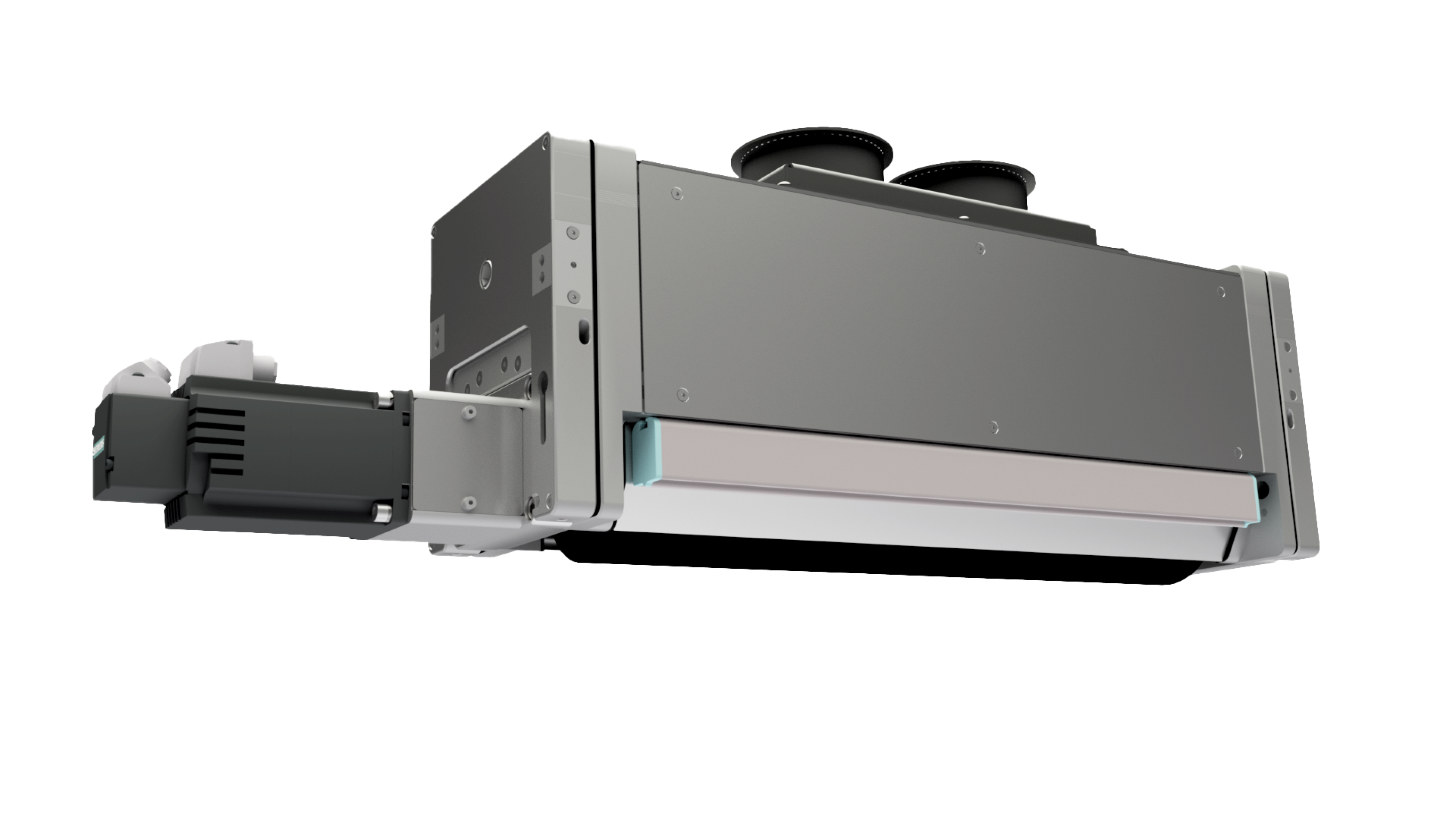 RoClean™ Contact Web Cleaner
RoClean is the latest contact web cleaner, delivering excellent surface cleaning results for the battery film manufacturing industry.
RoClean effectively cleans the web surface through the use of both static control and an efficient bristle roller brush. 
Meech web cleaners are supplied with Meech Air Handling Units (AHUs) to ensure air balance is maintained to perfectly control accuracy of air pressure and vacuum. These are compact, industrial specification units and can also be performance monitored via PLC control.
For the battery environment a new AHU option has been developed to enhance toxic contamination waste entrapment and safe filter removal by the operator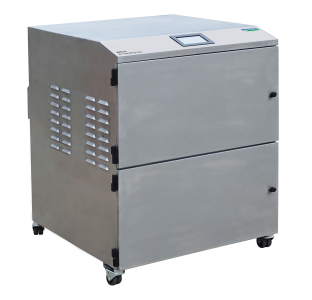 High performance DC ionisation bars are specified where frequency, voltage and polarity can all be fine-tuned to suit material, distance and residual charge.  These include EX versions in case of flammable environments. 
To safeguard operation and log performance these are often supplied with industry 4.0 SMART control – to program bar performance instantly, and record and monitor performance in real time.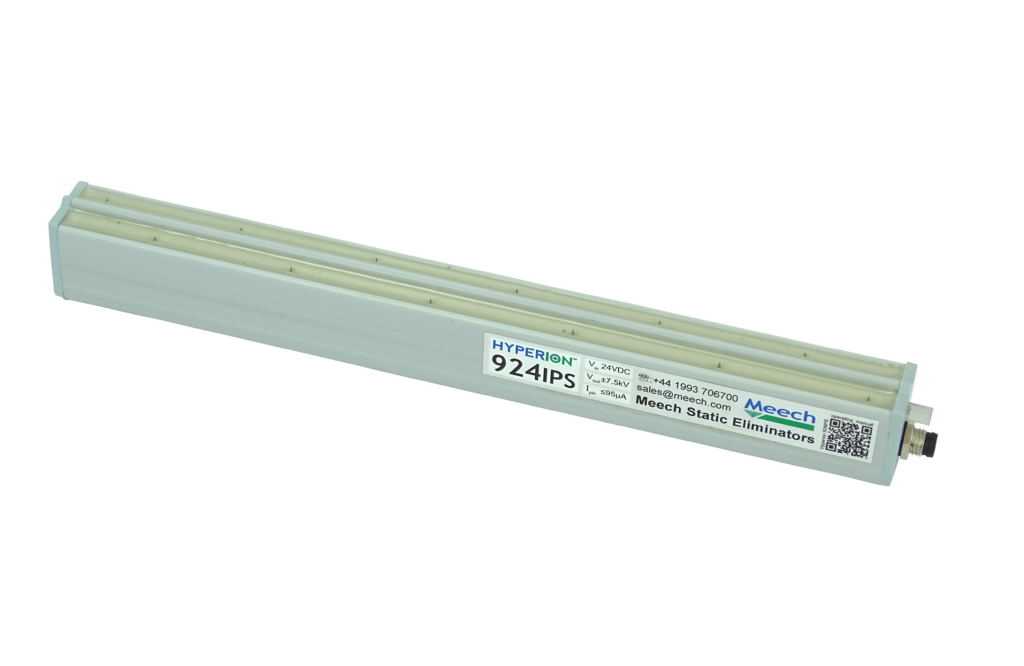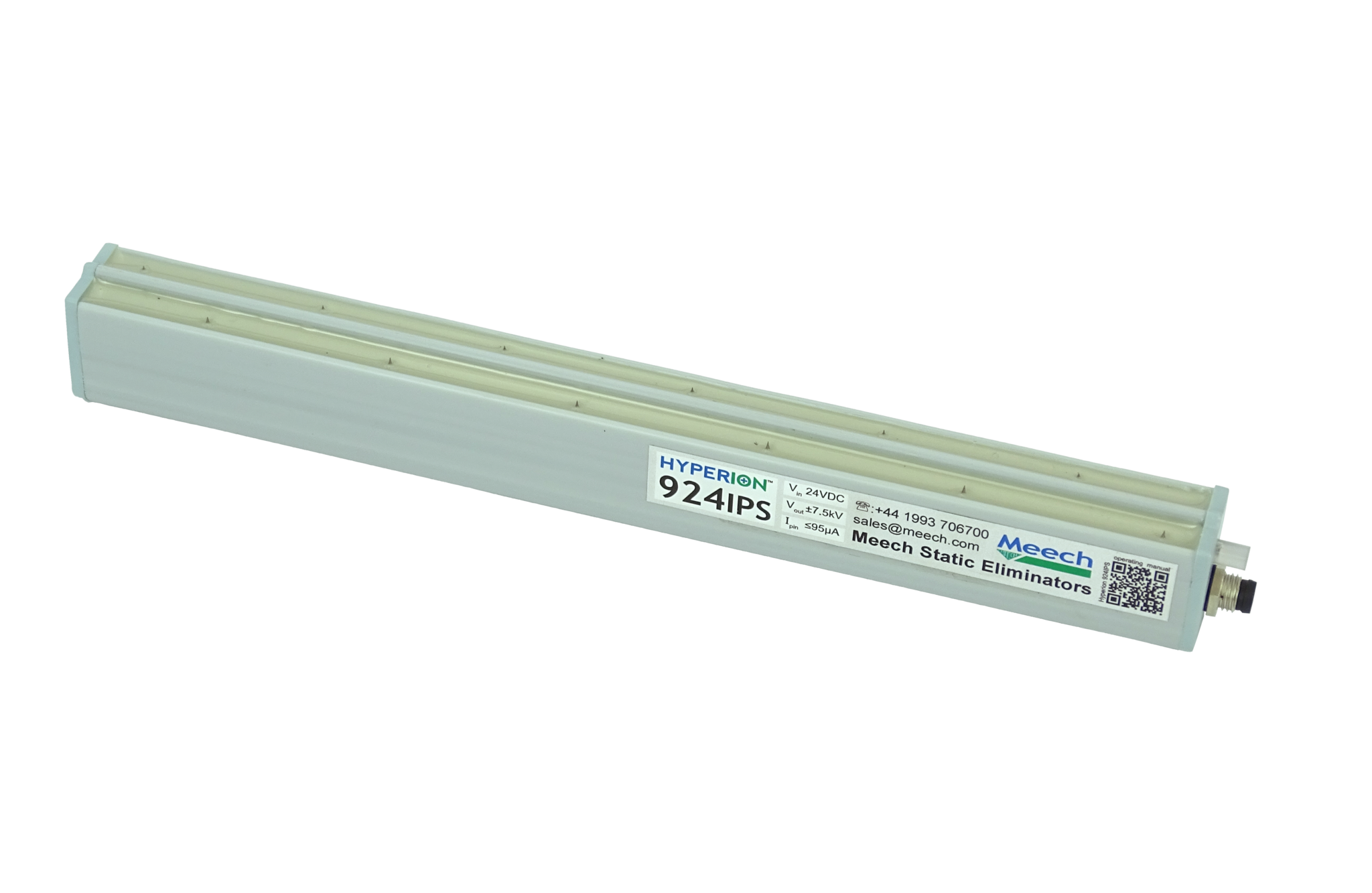 Hyperion™ 924IPS Ionising Bar
Powered by 24V DC the Hyperion 924IPS is the most compact pulsed DC bar available on the market.
The 924IPS features Meech's Ion Current Monitoring (ICM) technology, this ensures performance is maintained with local and remote alerts when the bar needs cleaning.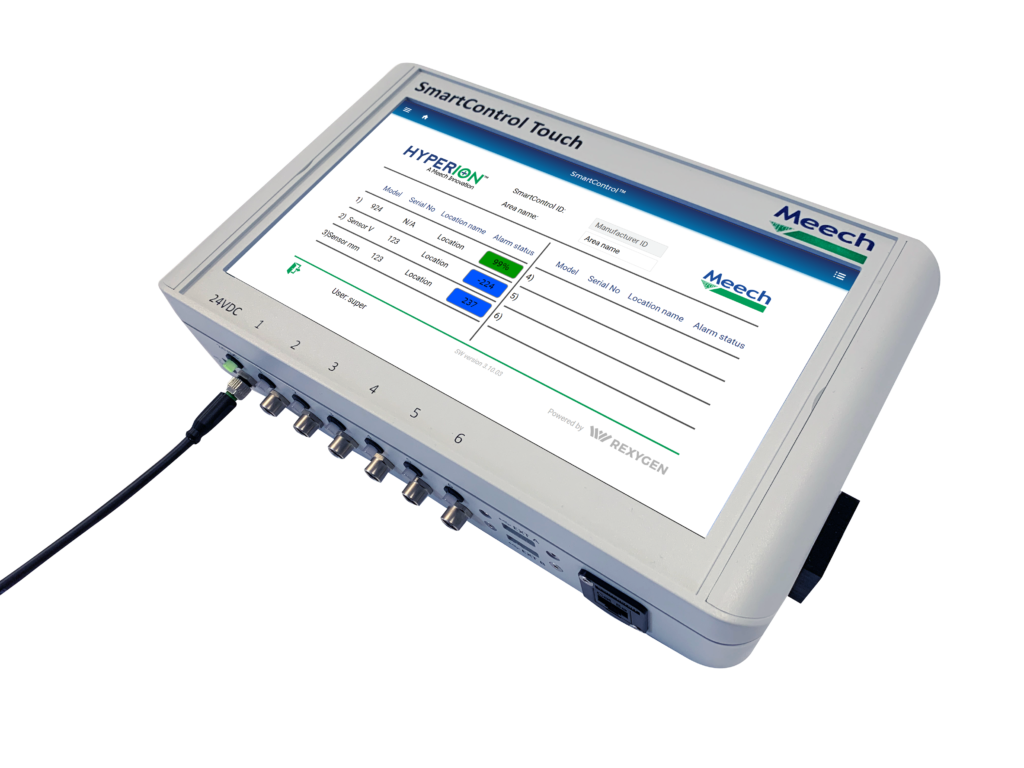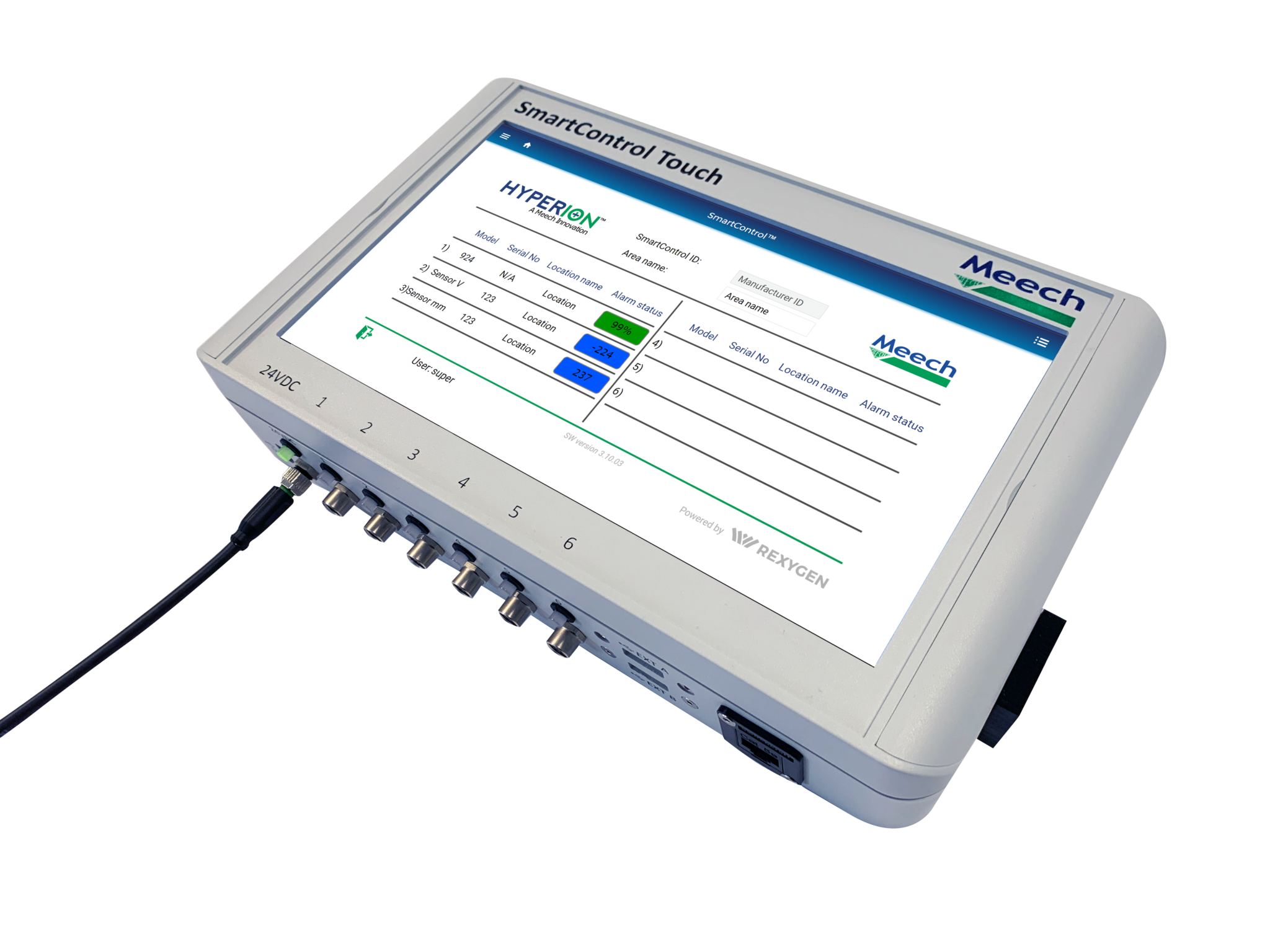 Hyperion SmartControl Touch
SmartControl Touch is the latest innovation from Meech designed to meet the needs of modern automated industries and the growth of Industry 4.0 to achieve maximum productivity and output quality.
SmartControl Touch allows the user to monitor, control and adjust the performance of multiple connected Hyperion ionising bars and sensors via the integrated touch-screen or remotely.
Could we help improve your battery manufacturing process?
Download our industry guide or contact our industry experts...